Natural Nutrition Coach Program Preview
May 20, 2022
2022-12-04 20:42
Natural Nutrition Coach Program Preview
Natural Nutrition Coach Program Preview
This is a Preview of our Natural Nutrition Coach Program

Are you interested in Natural Nutrition that nourishes your body?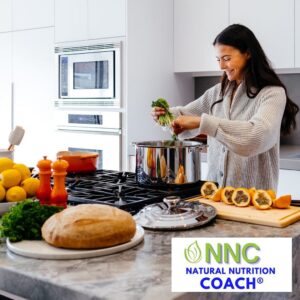 Are you interested in eating a healthier, whole foods-based diet?
Do you dream of owning a wellness-based business that connects you to your
clients on a deeper level? One that brings them long-lasting results?
Looking for a program that teaches a Holistic, Mind & Body approach?
Whether You're Adding to an Existing Wellness Business or You're Looking to Get Started in Nutrition Consulting, the NNC Program Has Everything You Need To Be Successful!

Program Foundations
Our program was created with you in mind! Our teacher's combined experience in education and practical use of our industry knowledge has allowed us to create a program catered to those looking to expand their knowledge in health and wellness.
Through our program, you will learn the foundational skills to transform lives, even your own! Most importantly we make it a priority to support you throughout the entire journey, from the nutrition certification to starting your own business.
We want to ensure you have all the tools & resources necessary for you to start a thriving business as a Natural Nutrition Coach!


Nutrition
The Natural Nutrition Coach® (NNC) Certificate program is designed to teach you the principles of healthy eating and individualized nutrition. Every person's body is unique, but the basic principles of eating healthy and whole foods apply to everyone. Unlike other programs, we focus a lot on healthy digestion as we believe this is the root cause for many health ailments today!
The Natural Nutrition Coach® program provides a foundation for implementing a natural foods diet as a primary modality in the pursuit of health and the prevention of chronic disease.
The course is a combination of textbook reading (downloadable PDFs), 7 Courses, videos, and a brief quiz following the completion of each module to test your knowledge! To complete the program you must pass a final exam and complete all case study requirements in order to receive your certificate of completion.
You will learn how to:
Help your clients develop the habits they need to create long-lasting change and get the results they want and deserve.
Understand the additional factors to consider when the client is doing "everything right" and not making progress.
Implement effective coaching strategies that consider the whole body, because as Holistic Practitioners, we understand that it's never just about the diet!
Case studies are a practical simulation of working with clients. They are a great way to provide you with the experience as if you were working in your own natural nutrition practice! We take you through a case study assessment step-by-step so you don't miss any part of the evaluation process and it will help you to focus more deeply on the client's priorities and goals. Successful completion of the case studies will provide you with experience and confidence as you begin your own practice in natural nutrition! These case studies are submitted and feedback is provided so you know that you're on the right track!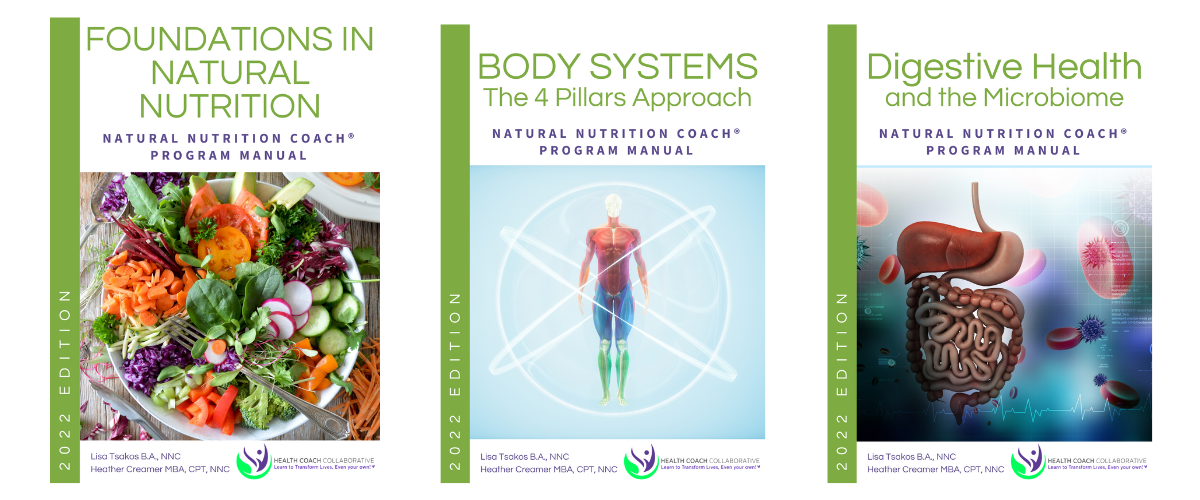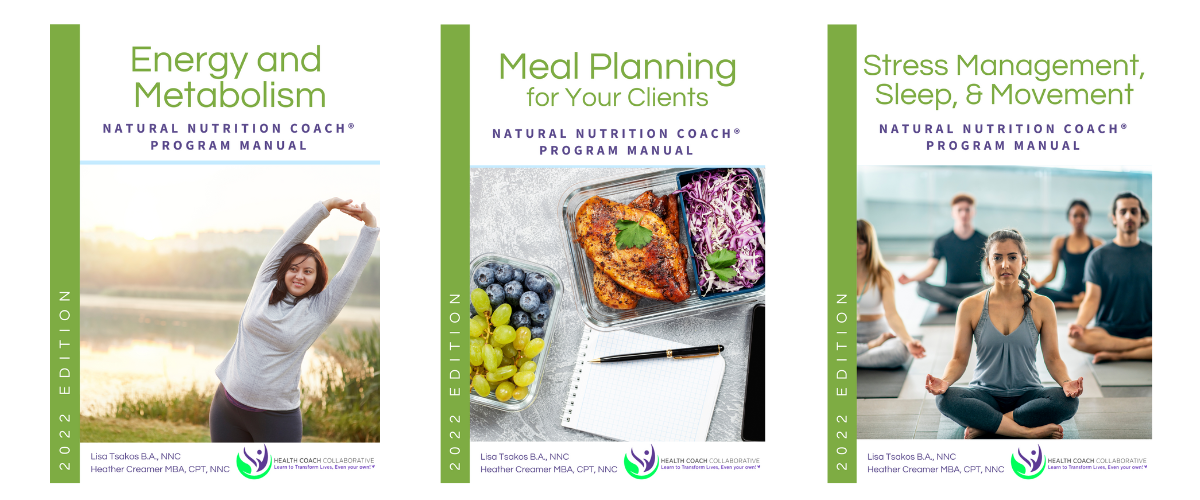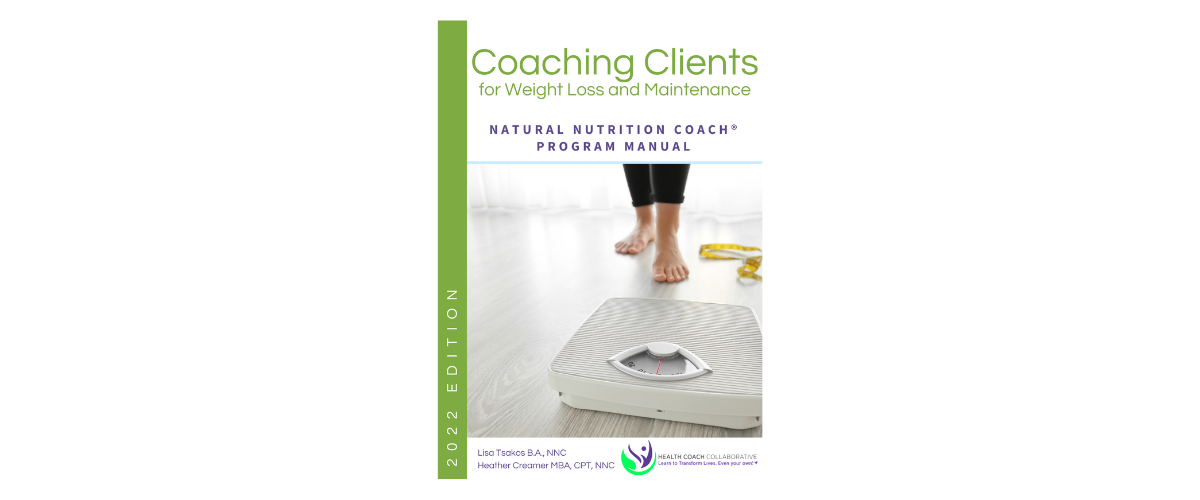 Coaching
Learn to build a deep connection with your clients and help them achieve the long-lasting results that they want and deserve!
The Natural Nutrition Coach® Program Includes the Module "How to Effectively Coach Your Nutrition Clients"
And… to help you implement your natural nutrition knowledge, in our Coaching Program, we show you how to effectively coach your nutrition clients, so that they achieve the long-lasting results that they are looking for, which brings you even more referrals and helps you to build your business!
Just Some of the Topics We Cover in the Coaching Module :
How Clients are Motivated, and Habits are formed.
The Stages of Change and how you can help your clients progress through them, so they don't get 'stuck'.
Setting SMART goals.
Building Rapport.
Effective and Motivational Questioning Techniques and what questions to ask.
We also take you through an entire coaching session flow and show you how to conduct an effective coaching session. We even provide sample coaching contracts that you can edit and personalize for your own Practice!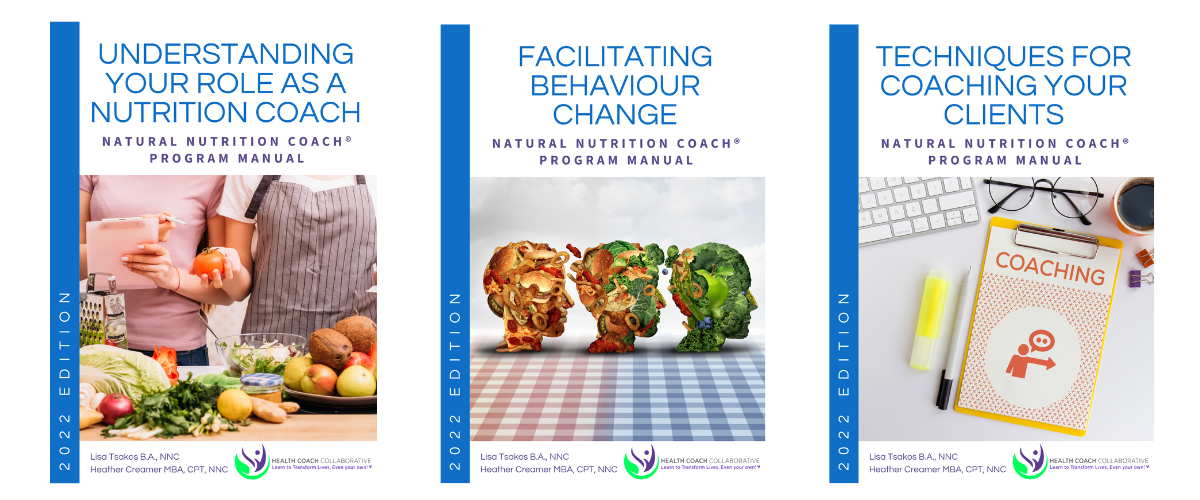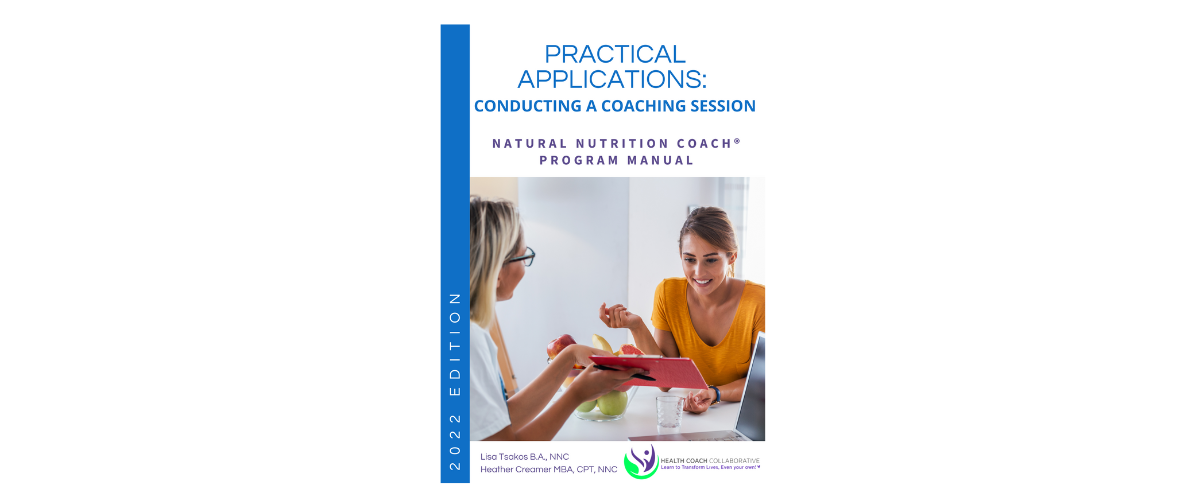 Business
Our business module will provide you with the knowledge you need to start a successful Nutrition Coaching Business or take your existing practice to the Next Level!
Jumpstart Your Nutrition Practice! 
It is never too soon to think about setting up your coaching practice, even before you graduate! This is why we integrate the business module right into the program! The reason is that it can take time to set up a business and learn how to work effectively with clients The sooner you can start your social media and network with like-minded professionals, the more successful you will be! Our instructor Lynne Faires, from the Holistic Nutrition Hub, has created an extensive nutrition business course catered just for our learners. In this BONUS business course, you will find information on the following:
Goal Setting
Business Musts Before Practicing
Finding Your Niche
How to Gain Practical Experience
Creating Your Pricing & Services
The Truth About Entrepreneurship
Other Streams of Revenue
Helpful Business & Nutrition Tools
Social Media & Marketing
How to Use the Holistic Nutrition Hub consulting platform for Your Business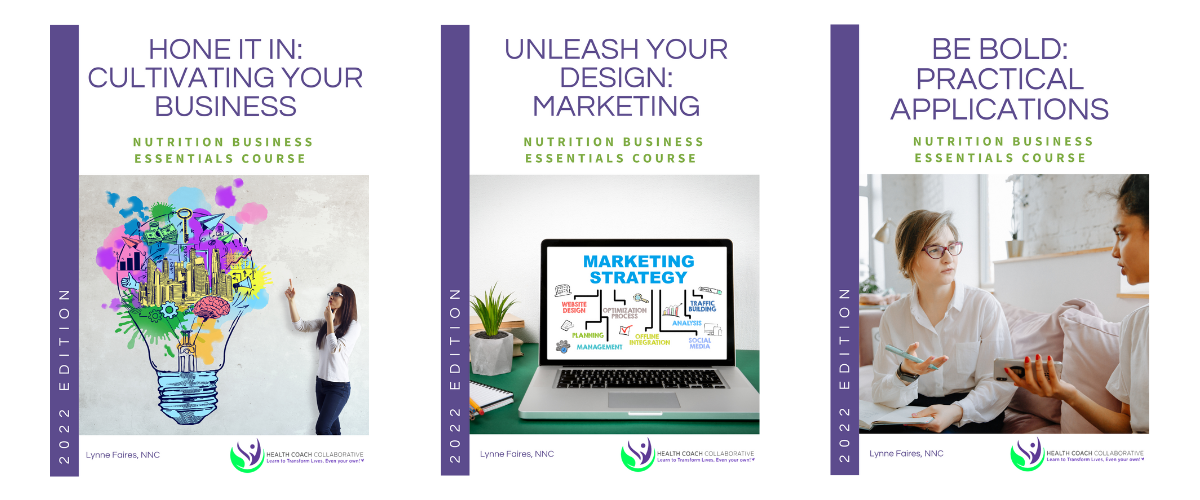 Stay tuned for our full program launch in March 2023.
Click below to stay informed about our launch
Nutrition 1.0 - Introduction to the Natural Nutrition Coach Program

Nutrition 1.1 - Foundations in Natural Nutrition

Foundations in Natural Nutrition provides a framework for the study of nutrition and is an introduction to the principles of a natural food diet as they relate to health and well- being. The macronutrients (carbohydrates, proteins and lipids) and micronutrients (vitamins and minerals) are explored in detail: their functions, metabolism, absorption, deficiency symptoms, and association with health and disease. Other naturally occurring compounds in plants and animals that may have beneficial effects on human health are examined, including phytochemicals, zoochemicals and adaptogens, as well as anti-nutrients (including phytates, oxalates, and tannins), and the importance of water. The course also introduces various assessment tools you can use to streamline your nutrition consulting practice.

Nutrition 1.2 - Body Systems

Nutrition is a significant factor in the prevention of many disease states. Students will develop a foundational understanding of each body system (musculoskeletal, cardiovascular, immune, lymphatic, respiratory, urinary, endocrine, nervous, reproductive, integumentary), the common diseases, symptoms and causes of imbalance that may occur within each system (osteoporosis, diabetes, cardiovascular disease, thyroid disease, kidney stones, asthma, allergies, arthritis and more), and specific protocols based on the four pillars—nutrition, movement, sleep and stress—that can be applied to achieve balanced health.

Nutrition 1.3 - Digestive Health & the Microbiome

Digestion is the cornerstone of health. Imbalances within the digestive system may result in poor nutrient absorption, and long-term malabsorption can initiate chronic health problems. This course explains the components and functions of the digestive system and why problems can so easily arise within this system, leading to constipation, heartburn and indigestion, or chronic illnesses of the digestive tract. Imbalances within the gut microbiome can greatly impact physical and mental health. Students also learn how these concerns may be influenced by dietary, behavioural, and supplemental interventions.

Nutrition 1.4 - Energy & Metabolism

This course offers a core emphasis on the scientific fundamentals of energy balance and metabolism. Anthropometric measurements and factors influencing metabolism and body composition are explored. Our unique, customized method for calculating energy needs and macronutrients is presented.

Nutrition 1.5 - Meal Planning for Your Clients

This course teaches practical meal planning and menu design to prepare you to work with (and offer additional services to) clients. Learn how to apply natural nutrition principles to create a menu that maximizes nutrients and incorporates individual health needs and tastes, while also considering time and budget restraints. Topics include healthy food preparation and practices (including soaking, sprouting and fermentation), grocery shopping, portion sizes, mindful eating, and meal/menu planning for shift workers. Learn how to guide your clients to decipher food labels and labelling terms, recognize food additives, and understand the benefits of eating local, seasonal, organic, non-GMO foods. Learn how to overcome barriers to healthy eating: time limitations, feeding picky eaters, eating outside the home and at work, healthy snacking, and breaking unhealthy eating habits.

Nutrition 1.6 - Stress Management, Sleep, & Movement

Stress may cause people to make unhealthy eating choices, exercise and sleep less, consume addictive substances, and engage in other destructive behaviours. Chronic stress can disrupt blood glucose regulation, digestion, hormonal health, and can cause imbalances in a person's mental and physiological state. The four pillars—nutrition, stress management, sleep and movement—play a significant role in how the body reacts and responds to stress. This course explains the physiological implications of stress on human health, and protocols (foods, nutrients, and interventions) that can help the body adapt to and recover from chronic stress. Learn about the sleep cycle and how to improve sleep hygiene. Special consideration is given to the microbiome and the critical role the gut-brain axis plays in behaviour, brain health, and mental health.

Nutrition 1.7 - Coaching Strategies for Weight Management

In this course, you will learn to apply the principles of natural nutrition to coach clients for successful weight management. Key elements and strategies for designing a weight management protocol that takes a mind-body approach are explained, with an emphasis on understanding eating behaviours, including the biological mechanisms behind hunger and cravings, the importance of sleep, emotional factors, and psycho-spiritual factors. Disordered eating and a comparison of diet trends are reviewed.

Practical Applications: Nutrition Case Studies

This is your opportunity to apply the theoretical knowledge and principles of natural nutrition that you have learned to complete personalized client case study reports for both fictional and live clients. Using assessment tools (including the Holistic Nutrition Hub) to identify nutritional imbalances, you will explain how these imbalances may be related to a person's health concerns and will recommend customized nutritional interventions, a meal plan, dietary supplements (if needed), exercise and lifestyle recommendations to address the client's concerns and rebalance the body.

Coaching 2.1 - Understanding Your Role as a Natural Nutrition Coach

In this course, you will learn why the coaching approach is so successful, how it differs from consulting and the attributes and characteristics of successful Coaches. You will also gain an understanding of how a client's mindset, values, beliefs, aptitude for learning, communication style and the coaching style they prefer can be utilized to provide the coaching environment they need to realize their goals and obtain a successful outcome.

Coaching 2.2 - Facilitating Behaviour Change

Change can be hard! In this course, you will gain an understanding of the Stages of Change Model (Transtheoretical Model) and how to assess your client's readiness for change. Building on the knowledge that you gained in the previous course, you will learn how to help your client establish a Vision and set SMART goals. Also covered in this course: popular behavioural theories, how we create and store memories, how our memories can affect our behaviour, building habits, intrinsic and extrinsic motivation, and strategies to help clients overcome obstacles as they work towards achieving their goals.

Coaching 2.3 - Techniques for Coaching Your Client

In this course, you will learn more about "the art of coaching": building rapport with your clients and utilizing effective listening techniques, including the 3 Levels of Listening, which includes incorporating verbal and nonverbal active listening techniques to enhance your coaching. Learn the principles of Motivational Interviewing and using open-ended questions, affirmations, reflective listening and summarizing (OARS) to establish an open dialogue, to have clients explore options and issues of concern, and to identify what is most important to them. Learning activities are included.

Coaching 2.4 - Practical Applications: Conducting a Coaching Session

In this course, all the components learned in the three previous courses come together to provide a framework that you can use to conduct a coaching session from start to finish. The entire coaching session flow is covered—from prequalifying a prospective client in a mini session and establishing a Coaching Agreement (to sell your services) to conducting the initial assessment and follow-up sessions, building weekly and monthly goals, assessing progress and creating expectations as you work with your client towards a successful outcome. Upon completion of this course, you will have gained the knowledge that you need to successfully conduct a Nutrition Coaching session.

Business 1.1 - Business Fundamentals: Introduction & Welcome

This in-depth course will teach you how to operate a business to ensure you succeed from the beginning. No guesswork needed! Our unique 3-part business course, known as The H.U.B. Process, will help you get your business off to the best start possible. Learn how to consult with clients professionally, know exactly when to deliver what information, and how to sell the programs you've created.

Business 1.2 - Cultivating Your Business: Honing It In

This course dives into the entrepreneurial mindset: goal setting for business success, various business structures and types, basic accounting and invoicing, pricing your services, and defining your ideal client and niche. Upon completion of this course, you will have a solid foundation for long-term business success.

Business 1.3 - Marketing: Unleash Your Design

The key to being successful in business is attracting and retaining clients. In this course, learn how to develop your business marketing strategy and how to produce marketing materials that reflect you and your brand. Additionally, you will learn about sales funnels, creating valuable lead magnets, and building a website. You will also be introduced to social media marketing concepts that will help you attract your ideal clients.

Business 1.4 - Practical Applications: Be Bold

Now that you have a strong foundation and your marketing materials are established, it's time to shine! You have identified your unique clients and are ready to work with them. Using the H.U.B. platform and business marketing materials, your final assignment is a "mock" run-through of the coaching process.

Resource Library

Our resource library houses all the references, resources, and recommendations we provide to you throughout the course and to take into practice with you.